Folk Art from Oaxaca: Eight Artists, Eight Voices
June 23 – September 28
Botanicals by Laurie Tennent
June 23 – September 30
Folk Art from Oaxaca: Eight Artists, Eight Voices
Folk Art from Oaxaca: Eight Artists, Eight Voices exhibition will consist of 50 sculptures, showcasing the work of eight indigenous Oaxacan artisans: Four potters with ancestral and unique techniques, and three wood carvers, particularly "Alebrijes," which are whimsical carvings depicting animals, people, objects, and imaginary creatures painted with intense colors and intricate patterns from Oaxaca, Mexico.
Mario Castellanos Gonzalez, one of the exhibiting artists, will travel to Michigan to give workshops at the Museum, the Midland Center for The Arts and Creative 360 in Midland, the Saginaw Art Museum in Saginaw, and Studio 23 in Bay City.  He will demonstrate to students how he carves and paints the wood to make his Alebríjes.
Alejandra Munuzuri, a resident of Oaxaca, is the exhibition curator and will travel to the Museum in June 2017 to give a lecture on the work of the artists as well as contemporary Oaxacan folk art in general.
Artist: Manuel Reyes
Artist: Leticia García Blanco
Artist: Giovanni Melchor Ramos
Artist: Fernando Peguero
Artists: Mario Castellanos Gonzalez and Reina Ramirez Carrillo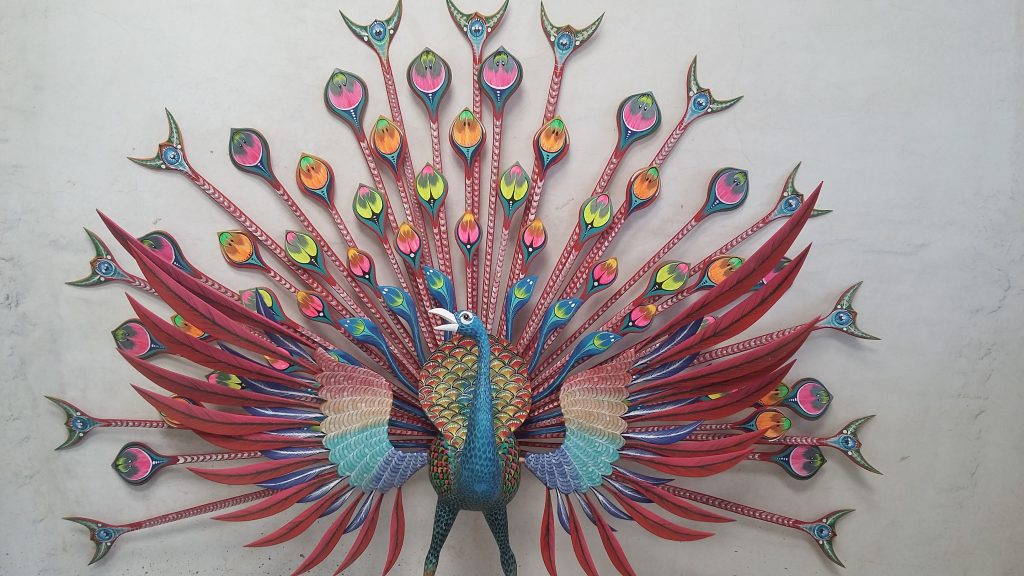 Neftali Martinez Villanueva
This exhibition is supported by: Michigan Council for Arts and Cultural Affairs, National Endowment for the Arts, Saginaw Community Foundation, Merrill Lynch, Nexteer Automotive, Victor Aviles, Jim Jaime, Jury Foundation, Michigan Pipe and Valve, Coco Loco Mexican Grill & Bar (Jose Costilla), and Kathleen Chantaca-Kubczak.
Botanicals by Laurie Tennent
Photos of Botanicals installation in the Jo Anne and Donald Petersen Sculpture Garden
Laurie Tennent is an artist who has worked with sophisticated photographic media for many years. Laurie is a graduate of the prestigious College for Creative Studies in Detroit with a BFA in Photography. Although she is highly acclaimed and successful in her commercial photography work, her fine art photography is an essential part of her practice. Tennent is represented in museums, galleries, and private collections internationally.
Her work pushes the boundaries between photography and painting, revealing in striking detail the architecture of plant life. Her large-scale photographs –up to seven feet– expose nature's innate beauty and delicate sensuality.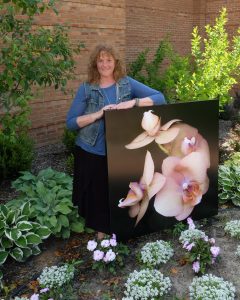 Artist Laurie Tennent
In 2016 Tennent had a major exhibition at the Chicago Botanic Garden and created an installation for the Detroit Riverfront Conservancy. The outdoor installation, comprised of two works, "Oriental Poppy" and "Desmanthus," will be on public display on Detroit's Riverwalk east of the Renaissance Center through 2018.
Through the summer of 2017 she has a large outdoor installation at the Marshall M. Fredericks Sculpture Museum in Saginaw, MI. Tennent is currently preparing works for the permanent collections of the Peace River Botanical & Sculpture Gardens in Punta Gorda, FL as well as the Morton Arboretum in Lisle, IL.
Thanks to Sue and Bill Vititoe for making this exhibition possible.
Read more about Laurie Tennent and her work