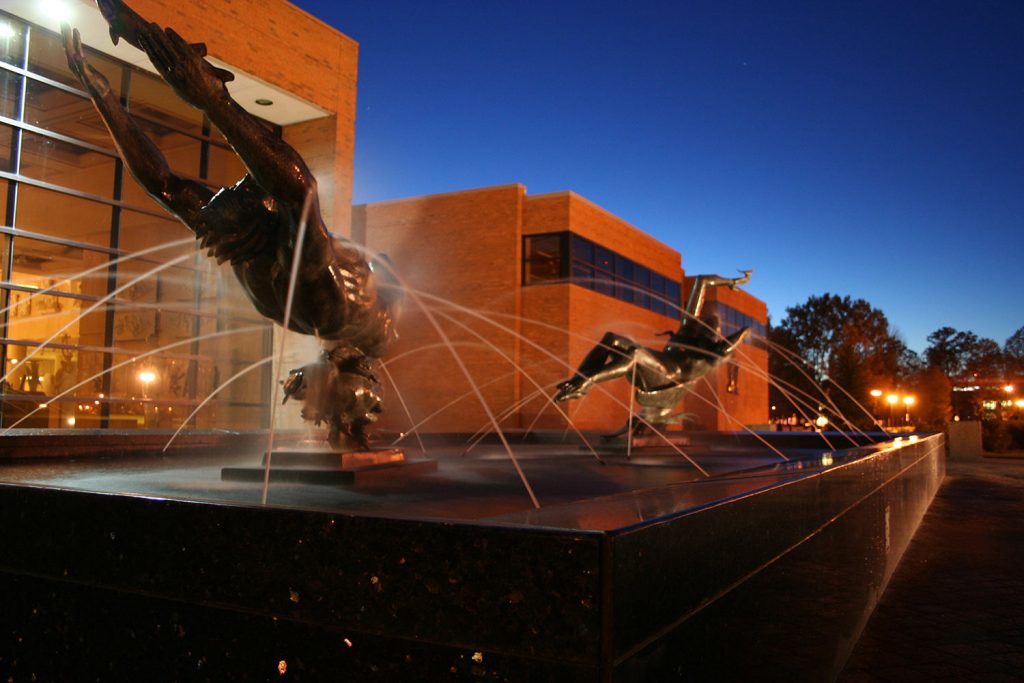 Honey (Dorothy) Doan Arbury studied under Marshall Fredericks when she attended Kingswood School at the Cranbrook Educational Community in Bloomfield Hills, Michigan, in the 1930s.  Fredericks and Arbury reconnected in the 1970s through her uncle, Alden B. Dow, a prominent architect in Midland, Michigan, whom Fredericks collaborated with on professional projects. Mrs. Arbury served on the founding Board of Control of Saginaw Valley College, which later became Saginaw Valley State University (SVSU). She remained active on the Board of Control and the SVSU Foundation for more than three decades. She and her husband Ned Arbury became friends with Marshall and his wife Rosalind, and together they created a plan for a permanent exhibit of Fredericks's work in a large gallery in the University's Arbury Fine Arts Center, which is dedicated to the visual and performing arts.
The Arbury Fine Arts Center and the Marshall M. Fredericks Sculpture Gallery opened to the public in May 1988. Fredericks himself oversaw the permanent installation of more than 200 plaster and bronze models and molds in the gallery.  Fredericks gave the balance of his collection to SVSU in 1994. Through the years, private donors have made it possible for more than a dozen bronze casts to be made for the Jo Anne and Donald Petersen Sculpture Garden.
After Fredericks's death in 1998, the University received his remaining tools, equipment, architectural site models, sculptures, and personal and business papers, which form the basis of an important archive for scholarly use at the Museum. With the growth of the collection and an expanded outreach program, the Board of Advisors elevated the gallery to museum status in 1999.
In October 2003, a $2.5 million Phase II Capital Campaign expansion nearly doubled the Museum's size, adding the Sculptor's Studio, a classroom, archive and research reading room, two temporary exhibition galleries, office space, and a museum store.
In 2013, the Museum was awarded accreditation by the American Alliance of Museums, an important distinction that acknowledges the Museum's implementation of the highest industry standards and achievement of significant impact.
Authorized by the Museum's strategic plan, the Jo Anne and Donald Petersen Sculpture Garden and an exterior entrance on the north side of the building were completed in September 2013, elevating and enhancing the visitor experience at the Museum.  Generous gifts from numerous donors made this latest expansion possible.