Values… Mission… Vision…
Our Shared Values: These serve as the basis for our work.
The Board of Advisors and staff of the Marshall M. Fredericks Sculpture Museum articulated their core values at the strategic planning retreat on Dec. 8, 2006. We re-confirmed these values on December 5, 2014.
The following values define the qualities and features of the Museum in a manner that serves as a foundation and guide for our actions as employees, board members, and volunteers.
Respect
·     Everyone who visits the Museum is worthy of attention and priority.
·     We treat everyone with whom we work—staff, board and volunteers—with respect.
·     We recognize the value of various types and genre of art because the Museum and its collection are part of the universal fabric of art.
·     We engage museum visitors in a manner that allows them to respect and value the artistic product and process of Marshall Fredericks.
·     We value and respect the legacy of Marshall Fredericks as expressed by his art, his humanitarian loyalty, and his life.
Diversity
·     We are open to and value differing opinions about art.
·     We embrace multiple art forms and bring them to the Museum for the public's education and enjoyment.
·     We encourage by our actions internally and externally all types of audiences at the Museum—ethnic, socio economic, disabled, and age variances.
 Commitment
·     We are committed to the highest standards of excellence in the care and display of art, conservation and education.
·     We obligate ourselves to seeking and attaining museum accreditation from the American Association of Museums.
·     We are steadfast in promoting the work of Marshall Fredericks and public art in general.
·     The Board provides fiscal guidance and advice to the Museum.
·     The Board supports the Museum and its work financially.
·     The Board and staff collaborate with the Saginaw Valley State University and the larger community in addressing the Museum's strategic needs.
·     The Board and staff play a key role in facilitating the cultural mission of the university.
Integrity
•      We are transparent in all of our dealings with the University and the public.
•      We behave in an ethical and honest manner in all of our dealings with others.
•      We always operate in a fiscally sound manner.
Responsibility    … The Board of Advisors:
·     Understands the responsibility of operating with a clearly defined business plan and will do so;
·     Ensures the financial sustainability of the Museum; and
·     Maintains a highly qualified Board that represents all of the constituencies the Museum serves.
Mission… Vision…
The mission of the Marshall M. Fredericks Sculpture Museum is to celebrate the artistic legacy of Marshall M. Fredericks through collecting, preserving, presenting, and interpreting his life's work for the educational and cultural enrichment of Saginaw Valley State University and the broadest possible audience.
Through the Marshall Fredericks objects collection and archives, temporary exhibitions, publications, and education programs, the Museum contributes to scholarly discourse and serves diverse audiences.
To accomplish this mission, the Museum pursues the following strategic objectives:
·     Promote awareness, appreciation, preservation, and understanding of the life and works of Marshall M. Fredericks.
·     Embed an educational component in everything we do.
·     Maintain the collection and present art and humanities exhibitions of Marshall Fredericks and other artists in accordance with the highest museum standards.
·     Foster the mission of the Museum and Saginaw Valley State University through education, research, exhibitions, publications, and outreach efforts.
·     Increase community awareness and attendance.
·     Operate in a fiscally responsible and sustainable manner.
·     Sustain accreditation by the American Alliance of Museums.
The vision we aspire to…
The Marshall M. Fredericks Sculpture Museum at Saginaw Valley State University is well attended, accredited, and abundantly endowed. It is respected nationally as an educational museum where scholars, researchers, students, and the public have the opportunity to experience all of the work of Marshall Fredericks, his sculptural processes and archives, as well as the work of other artists.
These specific vision statements support our broader vision:
·     The Marshall M. Fredericks Sculpture Museum operations are fully endowed.
·     More than 20,000 people visit the Museum annually.
·     The Marshall Fredericks Sketches to Sculptures, Rendered Reality exhibition travels to museums around the country.
·     Scholars, researchers, and the public utilize the Fredericks' Archives at the Museum and online.
·     The Museum has in its collection one of every piece Marshall Fredericks executed during his career.
The environment in which we operate
We know that we cannot control the external environment. However, whether it's the economy or arts audiences – and everything in between – we recognize that we must cope with and manage all this effectively.
This section of the plan summarizes the key trends in the external environment. Our way of working (the next section of this plan), describes how we plan to cope and manage.
General trends include things like the demographics, economy, government, political and social forces, and technology. While some trends are temporary (e.g., the state of the economy is always changing), others are more likely permanent (e.g., technology).
·     The demographics in the Great Lakes Bay Region show a decrease in population, and a decrease in youth.
·     The economy remains troublesome at this time. For example: Continuing unemployment and underemployment. Increasing poverty and decline of the middle class. Energy issues.
·     Governments continue to experience funding challenges, which causes decreases in funding for undergraduate education in general, and arts education specifically. Competition for government funds increases. Politics cause government dysfunction.
·     Social forces impact families and communities. For example: Time constraints. Competition for people's time and attention. Short attention span. Cautionary spending. Form over substance.
·     Technology is a useful tool to engage people and communicate with them. Technology also produces challenges, for example: Social media perpetuates faster culture shifts.
Arts and cultural trends offer both opportunities and threats. Attendance at museums and performing arts is decreasing. On the other hand, there's more public art and more people are engaged in the arts than ever before. [1]
·     Broadening notion of "what is art."
·     Democratization of art exhibitions and other arts experiences through technology.
·     Value of art as a multi-sensory experience is increasing.
·     Consolidation of arts organizations.
·     Orientation towards contemporary, not historic (and traditional), arts and culture.
·     Rise in social enterprise (for-profit) in the arts puts art nonprofits at a disadvantage.
The nonprofit sector continues to grow in the U.S. and all over the world. This growth produces more organizations, more knowledge and expertise, and higher standards of excellence in the operations and infrastructure [2] of the sector.
·     Transfer of wealth from one generation to the next.
·     Shift in funding from government to private sector, e.g., corporations, individuals, and foundations.
·     Less corporate funding.
·     Organizations with strong private support (e.g., individuals) survive. Those without struggle.
·     Unrealistic expectations regarding gimmick fundraising (e.g., Ice Bucket Challenge, Crowd funding) and social media.
·     Giving is micro-focused for younger generations; e.g., specific project versus the organization as a whole.
·     Increased application of new media.
·     General transition challenges in governance, sustainability, engagement.
·     Competition and saturation within the nonprofit community.
·     Importance of volunteers and their increasing role.
Summary of focus areas
This strategic plan is organized into five focus areas, summarized on this page.
Focus area #1: Way of working
First, our laser focus: Our values, mission, and vision define the foundation and framework for the way we work together and within our various communities. As individuals and a group, we adhere to these values and use them to face both challenges and opportunities.
Next, we use various tools and resources to pursue sustainability. For example: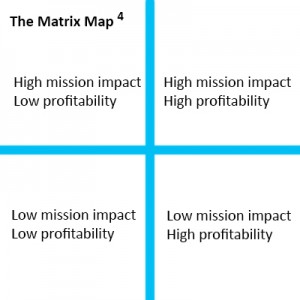 Focus + Right people + Partnerships + Unrestricted funds =  Programs & Services Sustainability [5]
A sustainable organization can be identified through 4 lenses:
1.      Focus: A sustainable organization maintains a laser focus on its founding principles and exercises discipline based on those principles in all its strategic decisions. At the same time, a sustainable organization must look ahead and adapt for the future.
2.      Right people: A sustainable organization has the right people in the right roles. Specifically, it counts on the right board and staff, who work together effectively as partners.
3.      Partnerships: A sustainable organization increases its impact through partnerships with other organizations.
4.      Unrestricted funds: A sustainable organization maintains sufficient funds to take advantage of opportunities and handle emergencies.
Organizational culture
We nourish a culture that is friendly, caring, and humane. We're creative, committed to high standards, and always striving. This is a great place to work and volunteer.
Change
Our staff and Board of Advisors know that change is frequent and often necessary. We know that making change requires building our adaptive capacity. And building adaptive capacity requires an external focus, network connectedness, inquisitiveness, and innovation. [6]
We strive to build an organization that can foresee the unforeseeable, and anticipate unintended consequences. To do this, we:
·     Maintain a finger on local and national pulses.
·     Stay up-to-date on trends (general, arts/cultural, nonprofit sector, fund development, etc.) by following relevant research and readings, and professional development.
·     Recruit staff and board member with diverse life experiences, age range, skills and competencies, and ability to speak out.
·     Ask and explore the most important and difficult questions.
·     Maintain open channels of communications and transparency.
·     Make technology a core strategy.
Succession planning
Central to our sustainability is succession planning. Succession planning focuses on all staff positions, including the Director. Succession planning also focuses on the Board of Advisors.
During the three years or so of this strategic plan, the Museum may experience a number of transitions. At the least, the Museum must put plans in place for future transitions.
Goal #1: Develop succession plan for the Museum Director.
Strategies:
1.       Identify succession and search models through AAM and other sources.
2.      Outline the plan and process steps, adopt.
Goal #2: Develop a succession plan for the Advisory Board and its leadership.
Strategies:
1.      Examine and, as necessary revise, officer positions, roles, required skills and competencies, and term limits.
2.      Outline a plan for leadership development for board members to become officers.
3.   Begin building the pipeline for officers and new board members.
In summary
Our way of working helps us fulfill our mission and move towards our vision. Our way of working helps us develop new champions for the arts. We welcome all who have a new appreciation for sculpture and the work of Marshall M. Fredericks.
We're building community. And whether we call people "members" or "donors," whether they're giving a gift or buying a product, these people and businesses are critical to our sustainability. Through our customer-centered and donor-centered approach, we nurture loyalty and lifetime value.
Focus area #2: Program
This section of the strategic plan refers to all of our mission-related activities. That includes exhibitions (permanent and temporary), classes, gift shop, and other activities.
We want everyone in the Great Lakes Bay Region to feel that there is something for them at the Marshall M. Fredericks Sculpture Museum. We will achieve this through the quality and diversity of our program.
Goal #1: Create experiences [7] for Museum users, whether live or online or…
Strategies:
1.      Embrace the concept of memorable experiences and audience engagement [8]. Design activities accordingly.
2.      Ensure that exhibitions are interactive and accessible through various vehicles, e.g., technology, signage, photographs, hands-on activities, etc.
3.      Help people understand that art is not elitist and is all-inclusive.
4.      Launch artist residence programs, e.g., artists-for-a-day, artist-in-residence.
5.      Increase our educational offerings, e.g., symposia for teachers, etc.
Goal #2: Continue presenting top-quality exhibitions – both arts and humanities – that reflect some aspect of Marshall M. Fredericks's life and/or work.
Strategies:
1.      Expand the understanding of Marshall M. Fredericks's life and work.
2.      Introduce Marshall Fredericks to visitors with photos, stories, explanations of his numerous commissions, and his universal message of hope.
3.      Maintain and market the Sketches to Sculpture, Rendered Reality: Sixty Years with Marshall M. Fredericks traveling exhibition and catalog.
Goal #3: Strengthen the use of technology in program.
Strategies:
1.      Evaluate the Museum's technological footprint (website, social media, etc.) through SEO (Search Engine Optimization).
2.      Offer memorable experiences – both on-site and online – through the best use of technology, e.g. app with audio tour of permanent installations, children's interactive page on museum web site, and introductory kiosk..
Goal #4: Strengthen connections to the "art academy." [9]
Strategies:
1.      Stay current with what is new, what's "hot," and what's important in the art world.
2.      Pursue opportunities for scholarly exploration of Marshall Fredericks's work, e.g., museum fellowship, research, writing, publishing, etc.
Goal #5: Develop the Museum as a community connections place.
Strategies:
1.      Market the opportunity to "meet at the museum" to various audiences, e.g., professional groups, civic groups, clubs, etc.
2.      Work with area leadership development programs to include the Museum on their agenda.
3.      Explore the development of non-museum programs – co-sponsored with SVSU departments and other community organizations. For example intimate concerts inside or outside in the garden, speakers' series, etc.
Focus area #3: Relationship with SVSU
Together, Saginaw Valley State University and the Marshall M. Fredericks Sculpture Museum Board of Advisors and staff are responsible for the sustainability and positioning of the Museum – within the broader community and within the University itself.
Both the Museum and the University recognize the value and the legacy of Marshall M. Fredericks, and nurture and promote that legacy. Both the Museum and the University work diligently to enhance our partnership.
Goal #1: Enhance connection with SVSU.
Strategies:
1.      Nurture the relationship with SVSU's Board of Control.
2.      Start an SVSU Friends of MMF group.
3.      Offer tours of the university (showcasing various departments/programs and MMF) to community organizations, e.g., school groups, senior groups, faith congregations, etc.
4.      Improve the physical facilities and supports required for an accredited museum, e.g., loading dock, open storage, etc.
Goal #2: Enhance connections with SVSU colleges and departments.
Strategies:
1.      Explore ways to connect the Museum with various University curricula.
2.      Co-sponsor Creative Cardinals art exhibition with the University when exhibition schedule allows.
3.      Develop Museum internships and fellowships for students. Include the arts and other topics, e.g., business, marketing/communications, engineering, etc.
4.      Offer a Museum Gift Shop discount to SVSU students and employees.
Goal #3: Enhance the fund development partnership with SVSU.
Strategies:
1.      Identify prospects and donors for a dual ask, for the University and the Museum.
2.      Identify ways that prospects and donors who are particularly interested in the arts can engage with both the Museum and the University.
Focus area #4: Marketing/communications
Marketing is the process of communicating the value of a product to customers. For arts organizations, this holistic process balances the needs and wants of customers, while maintaining the integrity of the artistic vision.
Marketing – and its partner communications – is a complex activity where everything matters. For example: The way we treat our visitors online and live… The way we engage people in meaningful experiences… The degree to which we understand and respect the interests (and non-interests) of our various markets… Our atmosphere… Our service… Everything.
This Museum also understands that we are marketing and communicating to two different – but mostly overlapping – sets of customers: Users of the Museum (e.g., visitors, class participants, event attendees, scholars, etc.)… and… Donors to the Museum (e.g. event sponsors, foundations, corporations, and individuals.)
Marketing/communications for donors is a sub-specialty. Marketing/communications for donors is about making donors the hero. In fundraising, the Museum is not the hero. Focus area #5 outlines our goals and strategies for fundraising and donors.
Goal #1: Increase traffic in the Museum.
Strategies:
1.      Flesh out our desired image / brand for the Museum. And work diligently to help our various audiences describe the Museum accordingly. [10]
2.      Use available networking resources (museums, colleges/universities, churches, etc.) to increase outreach and marketing/communications to diverse audiences – increasing their participation and comfort.
3.      Enhance relationships with community leaders (elected and appointed officials, business and professional leaders) by hosting periodic cultivation gatherings.
4.      Establish a young professionals group that supports the Museum.
5.      Create an MMF Sculpture Museum welcome package – both online and in print – for real estate agents, corporate employees, etc.
6.      Promote the Museum Gift Shop as a buying destination for holidays and other occasions.
Goal #2: Increase the number of Museum members.
Strategies:
1.      Develop guidelines and messaging for the concepts of "purchasing a membership" and "giving a charitable gift."
2.      In the membership program (both acquisition and renewal) clearly explain why charitable gifts matter.
Goal #3: Conduct research with our various audiences.
Strategies:
1.      Develop market research survey(s) directed to members, donors, visitors, and program participants to identify their demographics, psychographics, satisfaction, how they describe the Museum, etc.
2.      Personalize marketing/communications based on findings.
3.      Maintain an information database to support member and donor recruitment, and relationship building and solicitation.
Focus area #5: Philanthropy and fund development
Philanthropy – voluntary action for the common good – is central to the Museum's sustainability. And, fund development is the essential partner of philanthropy.
Fund development makes philanthropy possible by bringing together a particular cause and the prospects and donors who are willing to invest in the cause. The goal is to acquire donors of time and money who stay with the Museum. This is done through the process of relationship building. With the donor at the center, fund development nurtures loyalty and lifetime value, thus facilitating philanthropy. [11]
One of the barriers to effective fund development is the lack of recognition that this is a profession with a body of knowledge and best practice. As a profession, fund development is not subject to interpretation. MFSM continually builds its knowledge base in this field.
Goal #1: Improve the Museum's capacity and capability to raise charitable gifts, both unrestricted and restricted.
Strategies:
1.      Maintain a donor-centered organization, which is akin to customer-centered.
2.      Learn and apply the body of knowledge/best practice/research in fund development. [12]
3.      Apply technology (e.g., social media, website, etc.) for optimum return on investment and limited opportunity cost. [13]
4.      Provide orientation and training on fund development to the Board of Advisors.
5.      Create a comprehensive fund development plan for each fiscal year.
6.      Engage board members in the process of fund development through relationship-building and soliciting assignments.
Goal #2: Develop a comprehensive relationship-building program to produce donor loyalty.
Strategies:
1.      Learn and apply the rules of donor-centered communications [14].
2.      Increase the donor-centrism of the newsletter and annual report.
3.      Strengthen the extraordinary experiences offered to donors. For example, recognize donor loyalty, feature donor stories on our website, in publications, at programs and events.
Goal #3: Strengthen our solicitation program.
Strategies:
1.      Segment the donor and prospect market by solicitation strategy, e.g., sponsorship requests, direct mail, proposals/grant applications, and face-to-face solicitation.
2.      Increase the percentage of gifts from individuals through enhanced strategies. [15]
3.      Launch an annual face-to-face solicitation program for specific donors and prospects.
4.      Strengthen our direct mail solicitation program [16] with multiple letters to those who have and haven't given.
Goal #4: Continue building our endowment.
Strategies:
1.      Establish an MMF Legacy Society and invite loyal members and donors to join.
2.      Identify prospects (both current members and donors, and new prospects), and approach them for a gift.
Goal #5: Strengthen our volunteer program.
Strategies:
1.      Define our volunteer needs, articulate job descriptions and skills required, e.g., docents, fundraising solicitors, etc.
2.      Design a process to recruit, orient, train, and evaluate volunteers.
---
[1] Audience engagement is different than attendance and audience development. Engagement (as defined in research by the NEA, American Arts Alliance, and The Wallace Foundation) refers to people actually participating/touching/doing.
[2] Infrastructure refers to the areas of operation outside of program. Infrastructure includes areas like governance, management, marketing/communications, and fund development.
[4] Nonprofit Sustainability: Making Strategic Decisions for Financial Viability, J. Bell, J. Masaoka, S. Zimmerman
[5] Focus on Sustainability: A Nonprofit's Journey, Dennis McMillian
[6] Carl Sussman, "Making Change: How to Build Adaptive Capacity," www.nonprofitquarterly.org, December 2003.
[7] In 1998, B. Joseph Pine II and James H. Gilmore described the concept of the "experience economy" as the "next economy" – following agrarian, industrial, and service economies. (Others had introduced the concept as early as 1971.
Pine and Gilmore "argue that businesses must orchestrate memorable events for their customers…and that memory itself becomes the product." The product is the memorable experience. While the experience economy began in the for-profit business sector, the concept is now everywhere. Now, we even talk about "customer experience management." (See Wikipedia for quick notes.)
[8] As noted in an earlier footnote, while audience attendance decreases, audience engagement increases. More people are actively participating in the arts than attending.
[9]The "art academy" refers to scholarly and academic work.
[10] See page 4, "Highlights of Retreat #2." Retreat participants described both the desired and UNdesired images.
[11] From Keep Your Donors: The Guide to Better Communications and Stronger Relationships, Ahern and Joyaux, John Wiley & Sons Publishing, 2008.
[12] Fund development and donor research continues to grow. Research includes soliciting and giving through technology as well as traditional means. Blogs, e-newsletters, and books provide essential information that can increase our return on investment and use our time most effectively.
[13] Research about fund development – including the use of technology – is abundant in the field. MMF will review and apply this.
[14] See Tom Ahern, Ahern Communications, Ink. www.aherncomm.com. He's one of the world's leading experts in donor communications.
[15] Individuals give 80 – 85% of gifts donated each year in the U.S. Foundations and corporations give the balance. MMF Museum is overly reliant on foundation, government, and corporate gifts.
[16] The new direct mail program will include additional requests to those who've already given. These themed letters invite donors and prospects to participate in multiple ways. For example:
·         Member upgrade to the $100 level for existing members
·         Acquisition letter for those who aren't currently donors
Separate appeals with these topics: Education & scholarships. Exhibitions. MMF birthday appeal. Calendar year-end request.