Call For Entries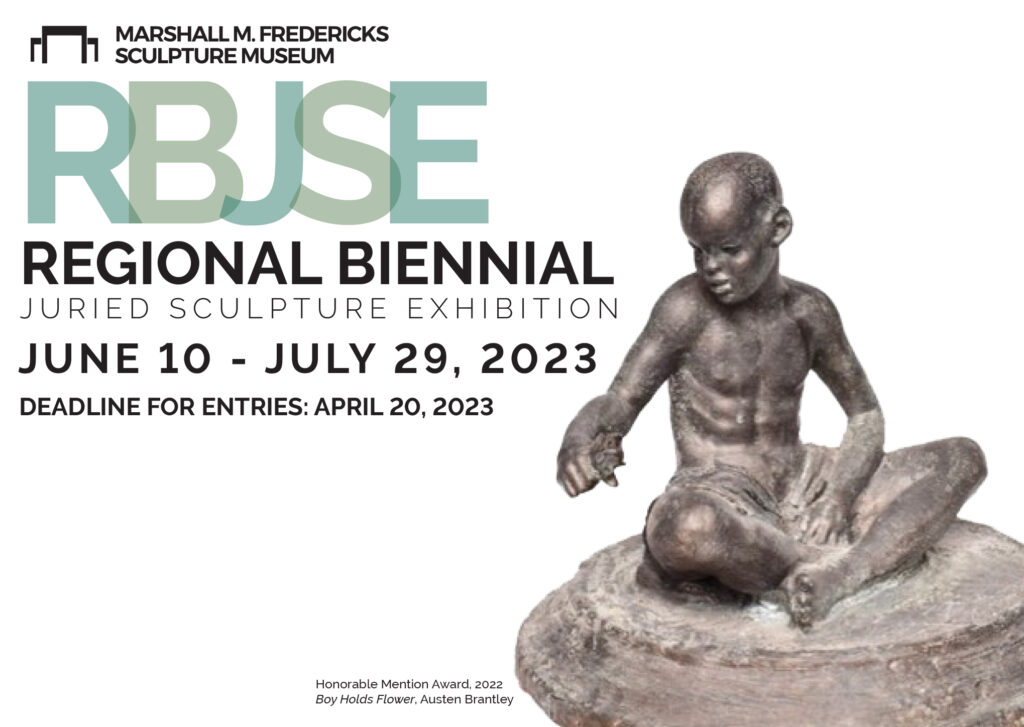 Awards:
Merit awards are monetary prizes awarded by the juror.
1st place….$2,500   2nd place…..$1,500   3rd place…..$1000  4th place…..$750
All awardees must be present at the opening reception on June 10, 2023.
Eligibility: Open to all artists working in sculpture who reside in the Great Lakes States of Illinois, Indiana, Minnesota, Michigan, New York, Ohio, Pennsylvania  and Wisconsin.
Specifications: Sculpture must be entirely original and completed within the last 5 years. Sculptures exhibited in any past Regional Biennial Juried Sculpture Exhibition at the Museum are not eligible. Sculpture should not exceed 8′ high, 5′ wide and no more than 300 pounds. Each entry must be created by the person who submits it. No artwork may be removed from the exhibition until it ends on July 29, 2023.
Fee: $25 Member, $35 Non-Member, up to 3 entries
For membership information visit: Become a Member
Presentation:
• Sculpture and sculpture components must be safe and easy to install
• cannot be hung from the ceilings of the Museum
• should not exceed 8' in height and 5' in width
• weigh no more than 300 pounds
• have no sharp edges
• consist of no hazardous materials or liquids of any kind.
Liability: All artwork will be insured while on the museum premises and up to the deadline for pick up by the artist at the end of the exhibition. The value of the sculpture must be stated on this entry form. Artists are responsible for insuring their artwork while it is in transit to and from the Museum.
Delivery of artwork: Sculptures accepted for exhibition must be delivered to the Museum between May 30 – June 2, 2023 from 9:00 AM to 6:00 PM or June 3, 12:00 noon to 5:00 PM. Deliveries may be unloaded at the cul-de-sac area of Fine Arts Drive near the Arbury Fine Arts Center entrance. If artwork must be assembled on site, you or someone you designate must be present to assemble it. Coordinate with museum staff for delivering and setting up your sculpture by calling 989-964-7125 or emailing ondish@svsu.edu.
Disqualification: Sculptures differing in quality from or otherwise not representative of the accepted digital image will be disqualified, based on the juror's decisions.
Sales: Works of art in the exhibition will not be for sale.
Pick up work: Artwork must be picked up from the Museum between July 31 –  August 4 from 9:00 AM to 6:00 PM or August 5 from 12:00 noon to 5:00 PM. Artwork can be loaded at the cul-de-sac area of Fine Arts Drive near the Arbury Fine Arts Center entrance. Pick up should be coordinated with MFSM staff by calling 989-964-7125. (Any unclaimed artwork left at the Museum after the deadline date for pick up will be disposed of at the discretion of the Museum. No artwork will become part of the Museum collection.) Reproduction: By entering the Regional Biennial Juried Sculpture Exhibition, the artist gives the MFSM permission to reproduce images for the catalog, publicity and education.
Notification: Artists will receive notification by mail after May 1, 2023. Digital images of accepted artwork will be retained for the catalog, promotion, publicity and educational purposes.
Entry procedures:
All entries must be received by email no later than April 20, 2023.  
Each artist may enter up to but not more than three sculptures and up to two detail images of each entry.
We accept digital files only.  
Select quality photos of your artwork and email them to mfsm@svsu.edu.
Image submission guidelines
1. Images must be no larger than 2MB
2. Image file names must be in the following format to match your entry above:
"ENTRY LETTER (see below) – ARTIST LAST NAME – TITLE".
For example: "Entry A – Smith- Sunset Over the Lake.jpg"
If you require additional views of your work then use the format ENTRY A1, ENTRY A2... Photos that do not follow this format may be disqualified.

3. JPG or PNG formats are preferred.
If you have any questions please email the Museum at mfsm@svsu.edu or call 989-964-7096.
Juror: TBD
Questions: Please contact Andrea Ondish email: ondish@svsu.edu, phone: 989-964-7096