Campus of Colors: Plein Air Event

Join us on September 9th at the Marshall M. Fredericks Sculpture Museum on the campus of Saginaw Valley State University for a beauty-filled day celebrating SVSU's 60th Anniversary in concurrence with the special exhibition Rose Chiu: Heart Intoxicated by Watercolor. Stroll both the award-winning campus and the Jo Anne and Donald Peterson Sculpture Garden while watching artists in action, as their paintings take shape right before your eyes.
Plein Air Competition
– 9:00am to 3:00pm
– Cost: FREE to viewers, $20 for competing artists, $5 for competing students
– Pre-Registration is required to be included in competition.
1st Place Prize: $500
2nd Place Prize: $300
3rd Place Prize: $100
Plein Air Demonstration
– Instructor: Exhibiting Artist, Rose Chiu
– 11:00am to 12:00pm
– Cost: FREE
Join exhibiting artist Rose Chiu in the Museum's Jo Anne and Donald Petersen Sculpture Garden for discussion and demonstration of Plein Air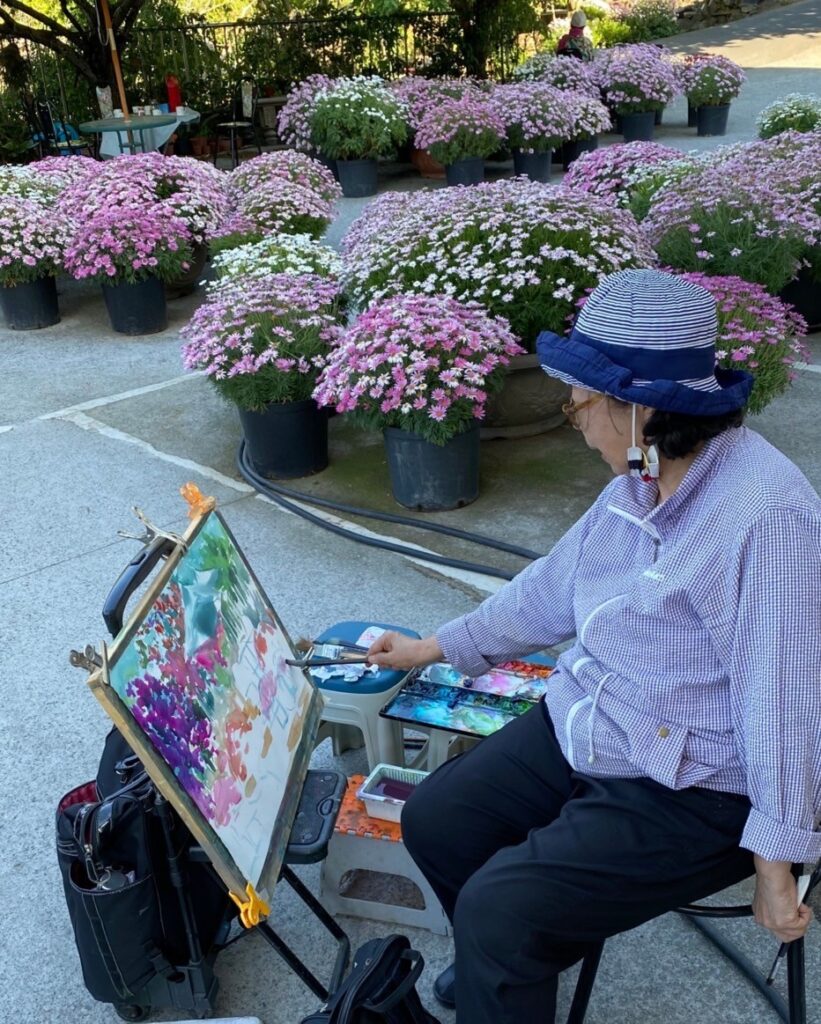 painting. Discussion will cover how to select a location for the perfect composition, the compositional design, choosing the appropriate technique for their design, selecting a color scheme, vantage point, perspective, focal point, and final touches on their completed work. After the demonstration, the participants can start to paint their compositions in a beautiful outside setting.
Following the demonstration, exhibiting artist Rose Chiu will be available for signing of her new book celebrating this special exhibition. Books are available for purchase in the Museum Shop.
*Plein Air Competition winners will be announced during a special closing reception and all works submitted in competition must be made available for sale.*
---
ADDITIONAL PLEIN AIR EVENT DETAILS FOR COMPETING ARTISTS
Pre-registration Required (prior to September 9)

Registration Fee: $20 entry fee for artists, $5 for students, for up to three canvases. Blank canvases will be stamped upon check in on event day to ensure all artists are starting with blank canvases. All supplies and equipment must be provided by the artist.
After registration fee is received, artists will receive a special invitation to the Evening Reception & Garden Party and can RSVP for up to three an additional guests. While the reception is open to the public, space will be limited and registration is required by September 1, 2023.
Participants are encouraged to paint at any location on campus. Artists are welcome to visit campus at any time to scope out desired painting locations on campus.
All artworks submitted for competition will be judged by a two-person panel. Winners will be announced during the closing reception. 
All works submitted for competition judging must also be available for sale. The artist can choose their own pricing and the Museum will process the payment. While the Museum typically receives a 60% commission on artwork sales and consignments, that fee will be reduced to 10% during this special event. That means that artists will receive payment for 90% of the sale price of any paintings sold during the event. Checks will be processed the following week and consignment paperwork must be completed at time of participation registration. 
DAY OF EVENT: Saturday, September 9, 2023
8:00 am: Artist Check-in begins outside the Museum in the Fine Arts Drive cul-de-sac

Artists may drive up to the check-in location and then following check-in can drive and park elsewhere on campus, closer to the location they are choosing to paint.
Parking will not be available for artists in the Museum parking lot during the event day and evening reception. See attached Campus Map for additional parking locations.

9:00am – 3:00pm: Open Plein Air Painting

Artists have approximately 6 hours to complete their artwork(s). The finished artworks will be framed by the artists and then exhibited by staff of the Marshall Fredericks Sculpture Museum for the public to appreciate and/or purchase. Participants are encouraged to enter one or more of their works painted that day to be included in the juried competition and art sale. Advanced registration & fee must be received prior to September 9 to be included in the competition and sale.

3:00-4:00pm: Artists Frame their works for hanging / displaying / judging /sale. Frames must include hanging wire and/or hardware.
Note: Framing not completed and ready to hang by 4:00pm may not be included in the display, judging, or sale.