Saints, Sinners & Stars Program and Auction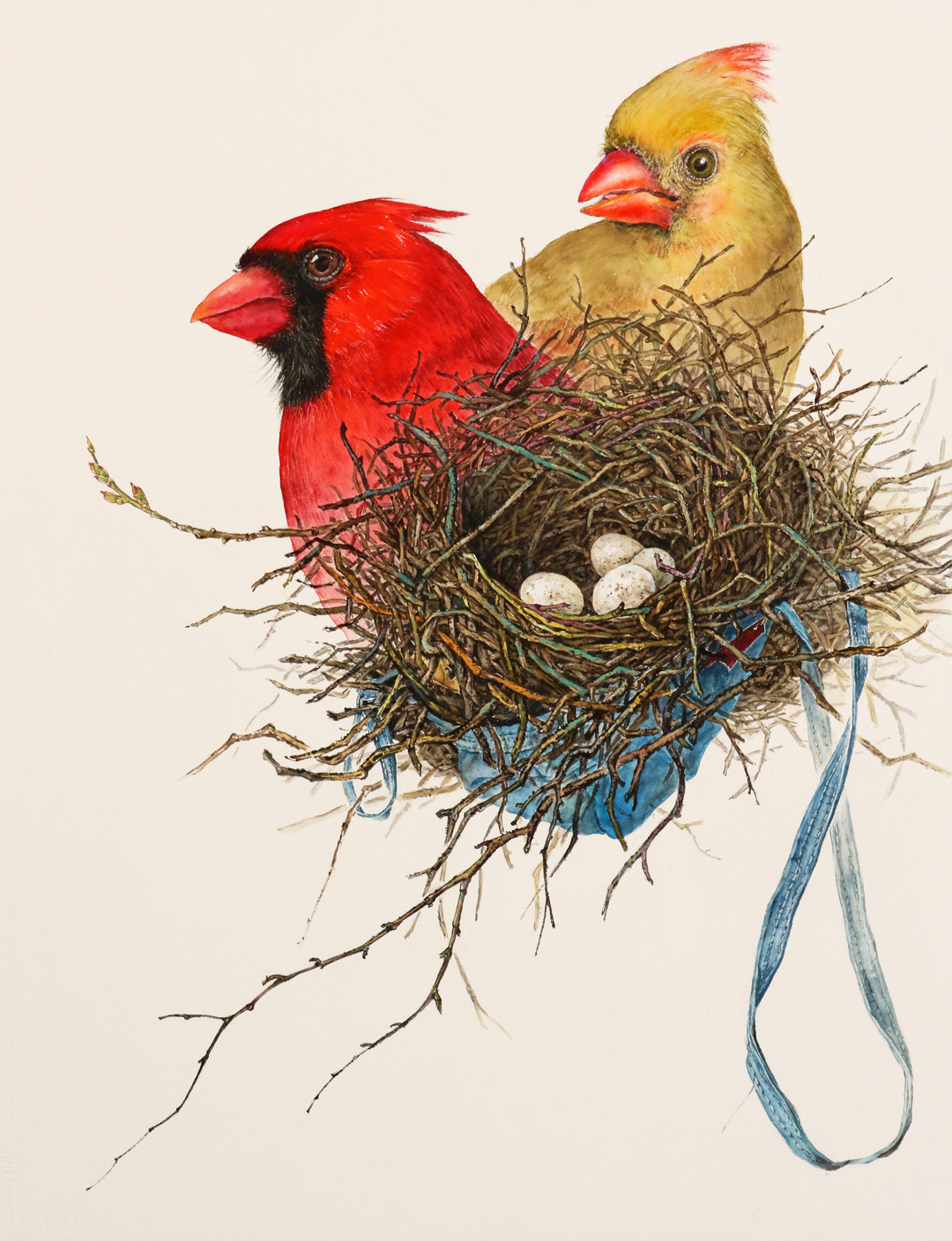 This beautiful artwork will be available in the auction.  See below for details.
EVENT PROGRAM
7:00 – Join Event, Welcome + Toast
7:20 – Top 10 Things You Might Not Know about Marshall Fredericks
7:30 – Play the Quiz & Win a Prize
7:40 – Education Programs Spotlight
7:45 – Message from SVSU President
7:50 – Intermission + Music
8:00 – Auction Begins – First Round Features:
#1: Dinner at Chef Avril's
#2: Pig Roast by Ernie
8:15 – Behind the Scenes Tour
8:25 – Message from Marshall Fredericks's Family
8:30 – Marshall Fredericks's Credo, Read by SVSU Theater Student Jared Kaufman
8:35 – Community Engagement Spotlight
8:40 – Auction Continues – Final Round Features:
#3 Dinner at Museum
#4 Original Artwork by Ju-Yu (Louise) Chen
8:50 – Special Appeal – "Youth in the Hands of God Seeking Knowledge" Conservation
9:00 – Closing Remarks + Toast
THIS YEAR'S AUCTION ITEMS
Auction Item #1
Pig Roast for 100+ by Pigologist Ernie Paulick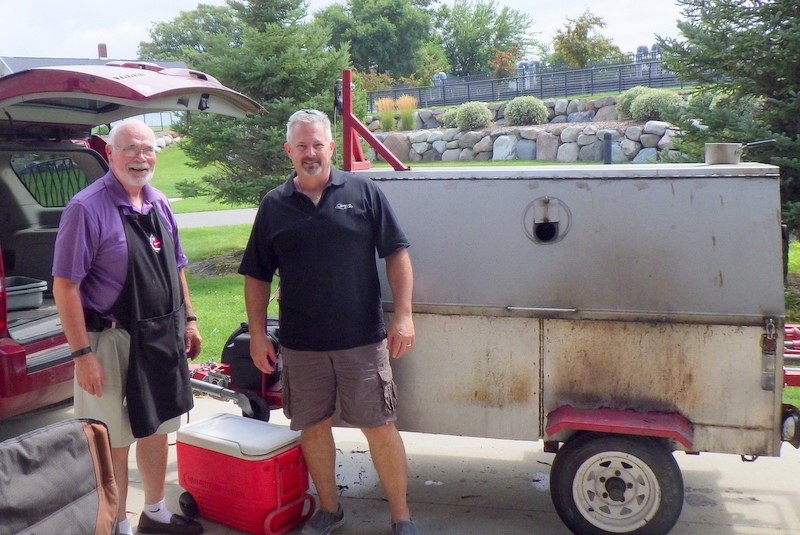 Are you planning an event for a good-sized group (100 to 200 people), maybe a family reunion, golf outing, company picnic or a charity event, and want to do something special? How about having a Pig Roast as your main entrée! Ernie Paulick, expert Pigologist, is ready to help your event be something memorable. The 1986 stainless steel custom grill, trailer and rotisserie, have been putting the fun in Pig Roasts for SVSU tailgate parties, and numerous charity events throughout the area for over 20 years. You tell him how many people, what time you want to eat, and he provides the pork to roast and carve for you at your location (within 100 miles of SVSU). If you ask nicely, maybe he will even throw in a tune on his bagpipe. 
Note: Can be redeemed for up to one year from when COVID restrictions on the size of gatherings have been lifted in Michigan.
Auction Item #2
Irish Hospitality: Gourmet Dinner for 8 by Chef Avril Roundtree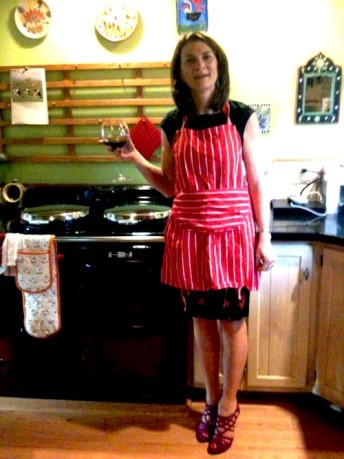 Enjoy a gourmet dinner for you and up to 8 guests at the Avril and Mervyn Roundtree home in Pigeon, MI. Chef Avril Roundtree is ready to put her Aga stove to work for you. Formerly a gourmet restaurant owner abroad, Avril's culinary finesse, elegant cuisine, and fabulous attention to detail will delight all of your senses. Known for her hospitality and welcoming home you and your guests will truly be pampered.
Auction Item #3
Dinner for 10 at the Museum by SVSU Executive Chef Kelly VanConett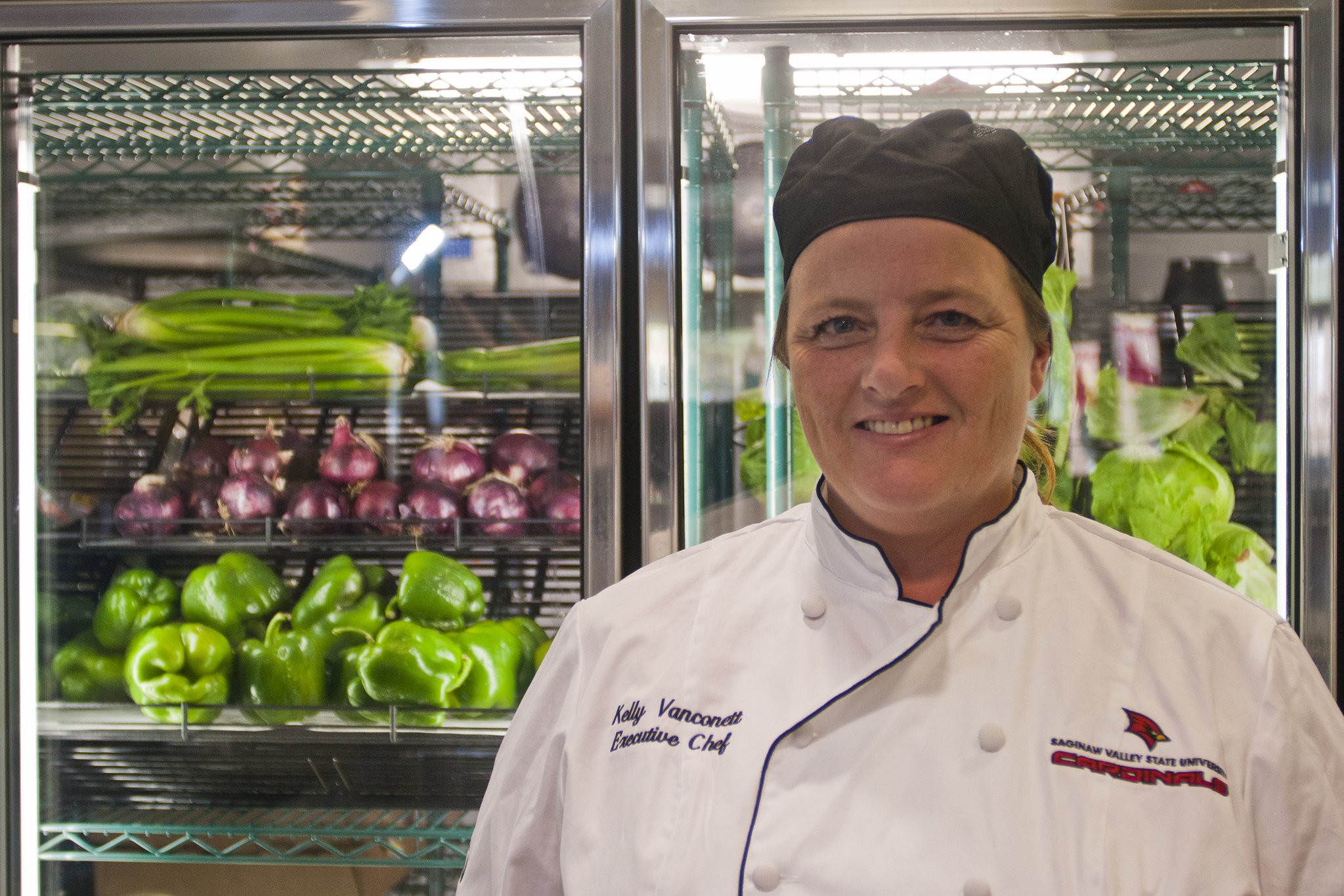 SVSU's Executive Chef, Kelly VanConett, and team will create a fun-filled evening to remember for up to 10 guests at the Marshall M. Fredericks Sculpture Museum.  This special dinner event includes a private, behind the scenes tour of the Museum.  Imagine your guests surrounded by the beauty of art as you host them with a fabulously catered dinner.
Includes Chef consultation provided prior to event.

Alcohol to be paid for separately by the winning bidder.
Note: Can be redeemed for up to one year from when COVID restrictions on the size of gatherings have been lifted.
Comments from previous bid winners include:
"We don't even know where to begin. The whole evening was like a perfect dream. The food was delicious. . . .  heard all the raves!. . . so it was a complete success."
Auction Item #4
Original Artwork, "Embraced Nest", by Ju-Yu (Louise) Chen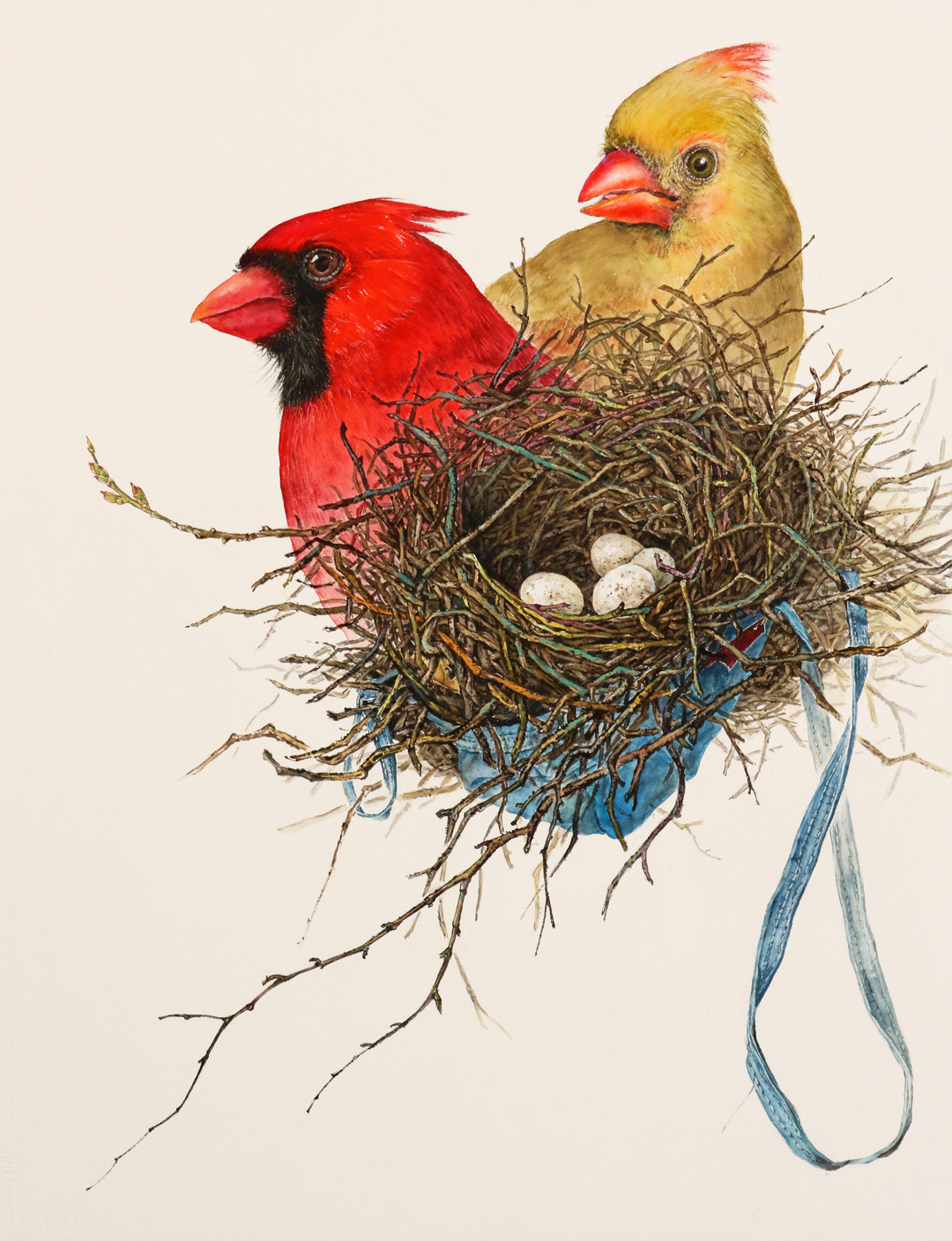 Title: Embraced Nest
Media: Watercolor 
Size: 22×28 inches
Year: 2020
Artwork Description:
This exquisite watercolor painting is both very much of the moment as well as timeless. The two cardinals sitting atop the nest they carefully constructed for their growing family shows the eternal importance of the nurturing spirit. In 2020, Covid-19 has made people notice what they used to take for granted, such as hugs and smiles as well as the comforts of a nurturing family – whether one's family of origin or a family chosen. This painting is inspired by a mask – a gift from Saginaw Valley State University when the campus reopened for the Fall 2020 semester. The Cardinal is SVSU's mascot and during the pandemic there is a Cardinal NEST Plan – "New Expectations for a Safer Tomorrow" at SVSU. To keep the community safe, wearing a mask is mandatory, and everyone on campus has been given a comfortable cloth mask. Despite the required social distancing, we, the Cardinals, stay connected and alert, waiting for the day we can see each other's smiles and embrace. I hope this piece of artwork, "Embraced Nest", will become the memory of this very challenging year and how we survived and thrived by working together. Cardinals, We Embrace!
Artist Profile:
Louise Chen (Ju-Yu Chen) is an artist from Taiwan whose medium is Chinese Brush Painting. In order to attend the most prestigious art school in Taiwan, 15-year-old Louise started to receive very strict, traditional training from several Chinese master artists.  To expand her educational experiences, she was taught drawing, watercolor, calligraphy and Chinese painting.  Right after she graduated from National Taiwan Normal University, she taught art in area high schools for seven years.  In 1994, she moved to the U.S and kept painting and teaching as a professional artist and art instructor. In her paintings, she uses two traditional techniques: Xei Yi (spontaneous style) and Gong Bi (detailed style) with watercolor on rice paper. Through the years, the wisdom that is found in the stories of life and the lessons that are observed in nature have inspired her to create artwork that calls for a deeper reflection. Louise spurs herself on creating the artwork that lasts and hopes her art resonates with the viewer.
Note: Shipping costs have been graciously donated by Avril Roundtree so don't hesitate to bid on this artwork based on your location.
2020 SPECIAL APPEAL:
"Youth in the Hands of God Seeking Knowledge" Conservation Fund
This year we have a Special Appeal for a very distinct sculpture that greets many visitors as they enter the Arbury Fine Arts Center, Youth in the Hands of God Seeking Knowledge. This sculpture is the only one in the JoAnne and Donald Petersen Sculpture Garden that is cast in aluminum. It was commissioned for the Dallas Texas Public Library in the 1950s and later came to the Marshall M. Fredericks Sculpture Museum in the 1990's. The sculpture is now 65 years old and after years of enduring the elements, especially Michigan winter's freeze/thaw cycles, it is in dire need of both structural repairs and surface restoration. We are sharing this Special Appeal to raise funds to complete this conservation project and restore Youth in the Hands of God Seeking Knowledge to its former glory. 
ABOUT THE AUCTION
All proceeds benefit the year-round, in-person and online, education programs and exhibitions of the Marshall M. Fredericks Sculpture Museum (MFSM). Items have not been appraised and in most cases the amount paid above Fair Market Value may be tax deductible as a charitable contribution. Guests are encouraged to consult with tax professionals before filing.
Bidding for auction items and pledges towards the Special Appeal will be made via the Chat function during the virtual Gala Zoom event.   More information on how to use Zoom and the chat function can be found at this link: https://www.youtube.com/watch?v=9isp3qPeQ0E&feature=youtu.be
Gift Certificates for dining packages must be used within the listed time-period and follow specific terms that may apply to the item. Please see the individual auction listings for more details.
Payment Info:
MFSM will invoice you for any auction item(s) you won, or unpaid pledges you made.  We will arrange for you to pick up your item(s) or have them mailed to you free of charge.
MFSM accepts credit cards and checks made payable to Marshall Fredericks Sculpture Museum.
Credit Card:

You may make a credit card payment for your pledge online by selecting "Special Appeal" in the drop down menu at https://mfsm.svsu.edu/mfsm/zcart/donation_form.html. Payment for auction items cannot be processed online – see below for payment by phone or check.
You may call Laurie Allison at 989-964-7082 to make payment over the phone by credit card to pay for your auction item or pay on a pledge.

Checks may be mailed to:
Marshall M. Fredericks Sculpture Museum
7400 Bay Road
University Center, MI 48710 
MFSM makes all attempts to describe the items presented for auction correctly, but no statement made orally at the auction or online, shall be deemed a warranty, representation, or assumption of liability.