Saints, Sinners and Spies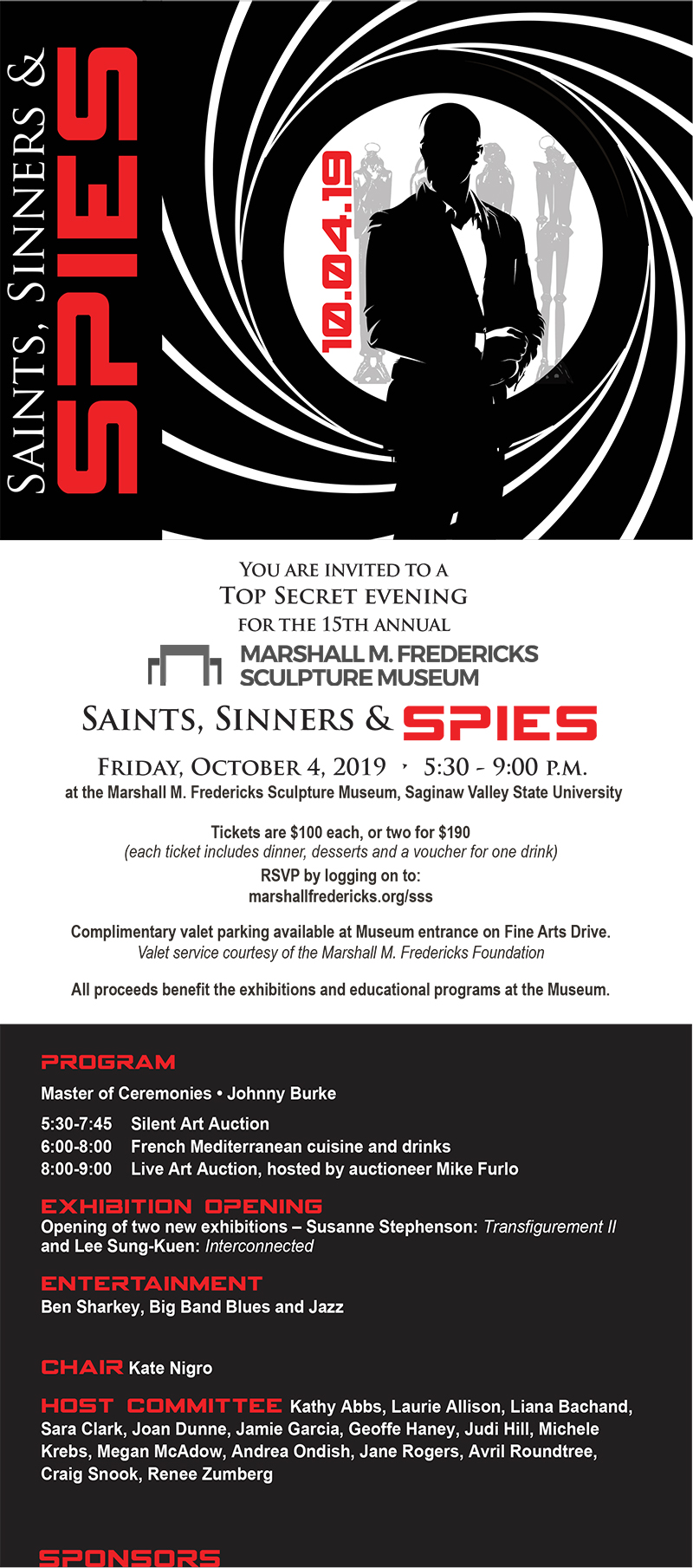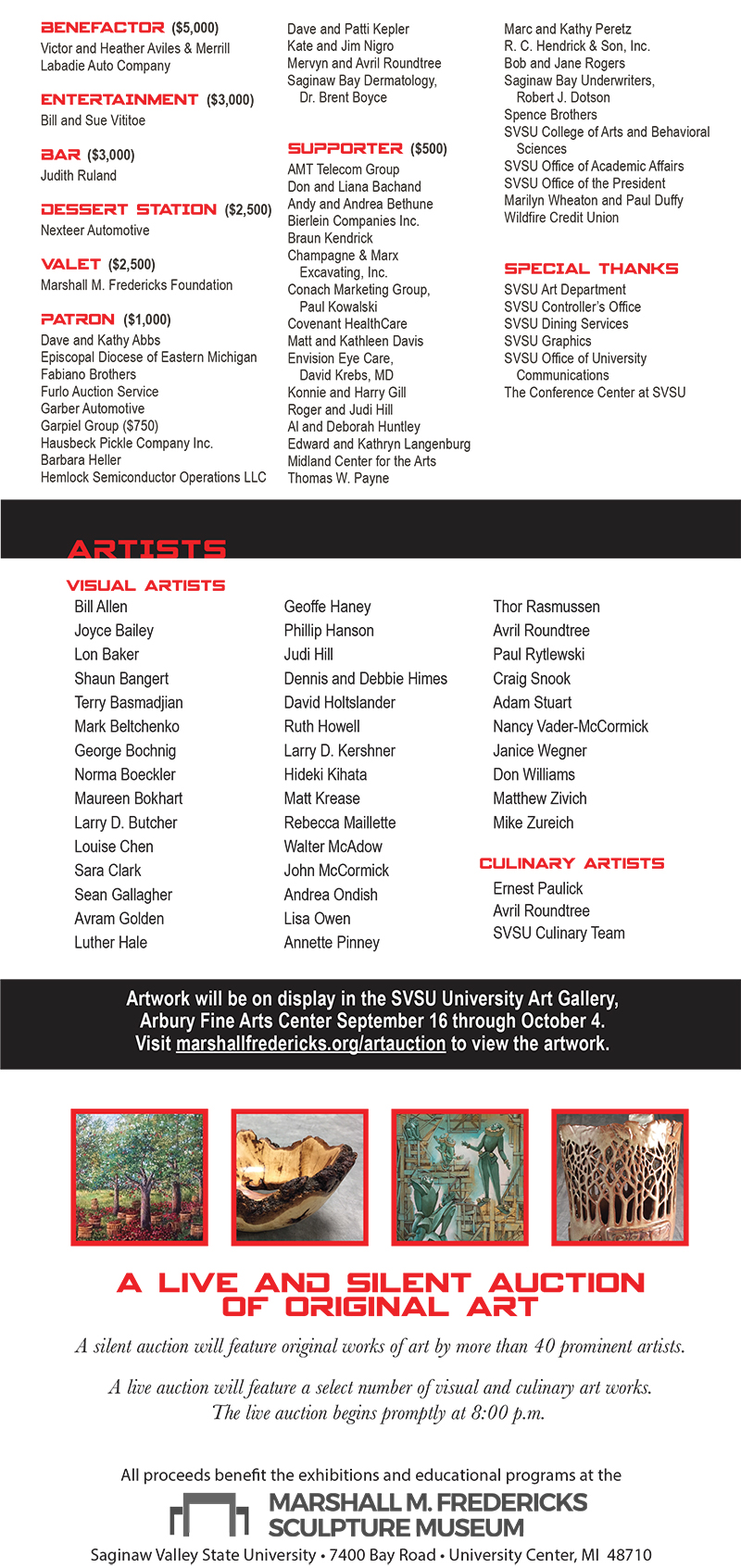 Purchase Tickets
Tickets to Saints, Sinners & Spies are $100 each or two for $190, which includes one drink ticket and valet parking.  Tickets can be purchased in advance by filling out the form below, by calling (989) 964-7082, or at the door the night of the event.  There is a limited number of tickets available, so order yours today.
The fifteenth annual Saints and Sinners event titled Saints, Sinners & Spies will be held at the Marshall M. Fredericks Sculpture Museum and the Arbury Fine Arts Center on Friday, October 4, 2019 at 5:30 p.m.   The event takes its name from Marshall Fredericks' "Saints and Sinners" sculpture located at Midland Center for the Arts in Midland, MI and Oakland University in Rochester, MI.
Proceeds from the gala support the many education and exhibition programs at the Marshall M. Fredericks Sculpture Museum.  It is important to us to keep programs free or at low cost so that all can take advantage of what the Museum has to offer our community.
The evening of the gala consists of a silent and live auction of artwork donated by regional artists, musical performances of big band blues and jazz by Detroit-based Ben Sharkey Quartet. The evening's dinner will include, theme inspired cuisine and drinks and the exclusive opening of two new exhibitions – Susanne Stephenson: Transfigurement II and Lee Sung-Kuen: Interconnections.
Susanne Stephenson has been an important contributor to the field of ceramics for six decades. She has exhibited around the globe since her first solo exhibition at Tamayo Gallery in Fukuoka, Japan in 1963.  As a Professor of Ceramics and Art Appreciation for nearly thirty years, she mentored and influenced the careers of countless artists.  Stephenson's work is found in numerous museum collections worldwide.
Lee Sung-Keun, born in 1954 in Seoul where he currently lives and works, is a leading figure of the Korean Art Scene. Building a bridge between man and nature, Sung-Kuen's work is a perfect illustration of the concept of vital energy (Qi), which is omnipresent in the artistic culture of Eastern Asia. He creates sculptures of primordial shapes that, at first sight, evoke human cells or the notion of fertility.  Once suspended in air, the vibrating play of light on the sculptures, and the apparent fusion with their surroundings into one symbiotic unity, bring the ovoid shapes to life.
Complimentary valet service will be available.
Click here to learn more about sponsorship levels
THANKS TO OUR SPONSORS
Dave and Kathy Abbs
Don and Liana Bachand
Andy and Andrea Bethune
Matt and Kathleen Davis
Episcopal Diocese of Eastern Michigan
Furlo Auction Service
Konnie and Harry Gill
Barbara Heller
Roger and Judi Hill
Al and Deborah Huntley
Dave and Patti Kepler
Edward and Kathryn Langenburg
Marshall Fredericks Foundation
Ernie Paulick
Thomas W. Payne
Marc and Kathy Peretz
Bob and Jane Rogers
Mervyn and Avril Roundtree
Judith Ruland
SVSU Art Department
SVSU College of Arts and Behavorial Sciences
SVSU Controller's Office
SVSU Dining Services
SVSU Graphics
SVSU Office of Academic Affairs
SVSU Office of the President
SVSU Office of University Communications
Bill and Sue Vititoe
Marilyn Wheaton and Paul Duffy
The Conference Center at SVSU