The Spirit of Detroit 60th Anniversary Celebration
Saturday May 12, 2018
The Spirit of Detroit 60th Anniversary Celebration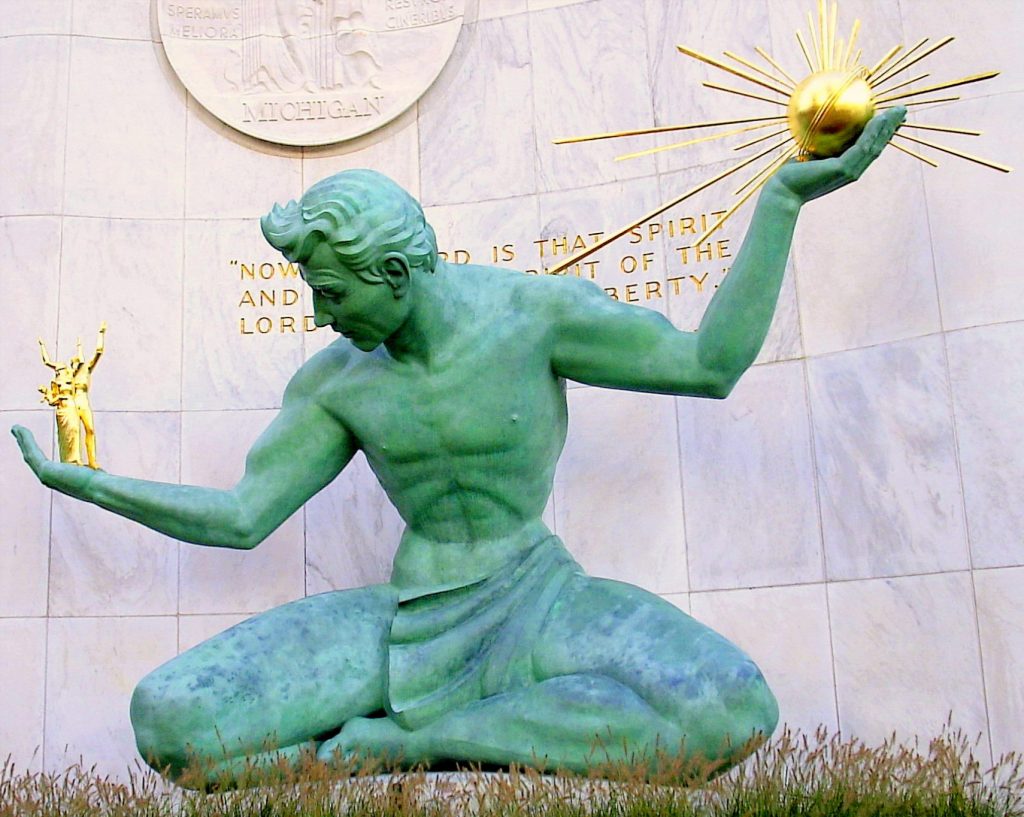 EVENT:
The Spirit of Detroit 60th Anniversary Celebration, a fundraising event to support the Marshall M. Fredericks Sculpture Museum, a non-profit organization whose mission is to celebrate the artistic legacy of Marshall Fredericks through collecting, preserving, presenting, and interpreting his life's work for the broadest possible audience. Through the Marshall Fredericks objects collection and archives, temporary exhibitions, publications, and education programs, the Museum contributes to scholarly discourse and serves diverse audiences.
DATE/TIME:
Saturday, May 12, 2018, 6:00 – 10:00 p.m.
LOCATION:
1 Woodard Avenue, across from The Spirit of Detroit sculpture.
PROGRAM:
6:00 Reception in lobby for Tier One ticket holders.
7:00 Dinner in The Beacon for Tier One ticket holders.
7:30 Reception in lobby and on patio for Tier Two ticket holders.
9:00 Guests will walk out to Spirit Plaza for The Spirit of Detroit program.
TICKETS: 
Individual Tier One tickets at $250 includes reception in 1 Woodward lobby and a sit-down dinner in The Beacon, 2nd floor. Individual Tier Two tickets at $60 includes cocktails, canapes and music in the lobby and on the patio.
ENTERTAINMENT: 
The Motor City's own jazz crooner, Ben Sharkey, will play in the lobby, 6:00-9:00 Detroit's own Marion Hayden jazz trio will play in The Beacon, 7:00-9:00
PARTNER:
Detroit-Wayne Joint Building Authority
HONORARY CO-CHAIRS:    
Eric B. Larson, CEO Downtown Detroit Partnership and Maurice Cox, City of Detroit Planning Director
SPONSORS:
There are many sponsorship opportunities, the title sponsor being The Spirit of Detroit. Other sponsor titles will be Leaping Gazelle, Boy and Bear, The Thinker, and Victory Eagle, all well­ known Marshall Fredericks sculptures sited in Detroit, Southfield, Cranbrook Educational Community Bloomfield Hills, and Ann Arbor.
MASTER OF CEREMONIES:      
John Gallagher, Detroit Free Press Senior Business Columnist
THANKS TO ALL OUR SPONSORS
The Thinker
DuMouchelle Art Galleries
The Kresge Foundation
Victory Eagle
Detroit Athletic Club
Marshall Fredericks Foundation
Benefactor
Blossoms
David W. Christensen
Cohn Family Philanthropic Fund
Julie and Peter Cummings
Detroit Bikes
Foundation Hotel
Harry and Konnie Gill
Joe and Jean Hudson
Deb and Al Huntley
Jones-Keena & Co.
Liebler Group
Marriott Renaissance
McIntosh Poris Associates
MJR Mechanical
Joseph Mosey Architecture
SmithGroup JJR
The Taubman Co.
UHY Advisors
Saginaw Valley State University
William and Susan Vititoe
Marilyn L. Wheaton and Paul Duffy
400 Monroe Associates