Give Spirit
Motor City Icon: The Spirit of Detroit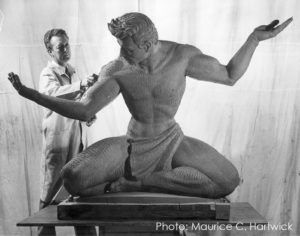 The Marshall M. Fredericks Sculpture Museum is celebrating the 60th anniversary of The Spirit of Detroit all year long.  Do you have something related to sculpture?  The museum is looking for objects to  exhibit such as: t shirts, posters, trinkets and nick knacks, packaging materials, paper ephemera, art, and anything related to the sculpture.  If it has the image of The Spirit of Detroit on it, we want it for the upcoming exhibition Motor City Icon: The Spirit of Detroit.    We are looking for creative ways the image of The Spirit of Detroit has been used from art to everyday items.  Please consider donating or loaning an object for this sure to be exciting exhibition.
The exhibition will open October 5, 2018 and close January 26, 2019.
Opening reception will be Saturday, October 13, 2:00 – 4:00 PM.
● If you are "loaning or donating" a piece to the exhibition, please download and fill out the DONATION/LOAN FORM above and send with your artwork
● If the piece you are sending is a work of art (painting, photograph, sculpture, glass, ceramic, etc.) please include the artist's name, medium, date and title of work.
●If you have any questions please contact Geoffe Haney at 989-964-2032 or email: gchaney@svsu.edu.
●Please send item(s) you wish to loan or donate to the Motor City Icon: The Spirit of Detroit exhibition to:
Geoffe Haney
Marshall M. Fredericks Sculpture Museum
Saginaw Valley State University
7400 Bay Road
University Center, Michigan 48710
Listen to the Motor City Icon: The Spirit of Detroit playlist on Spotify