Calendar of Programs & Events
The full list of Upcoming Events and Exhibitions at the Museum you won't want to miss!
March 15 – June 29, 2019
American Visionary: John F. Kennedy's Life and Times
 Exhibition organized by Wiener Schiller Productions in collaboration with the John F. Kennedy Presidential Library, Curated by Lawrence Schiller.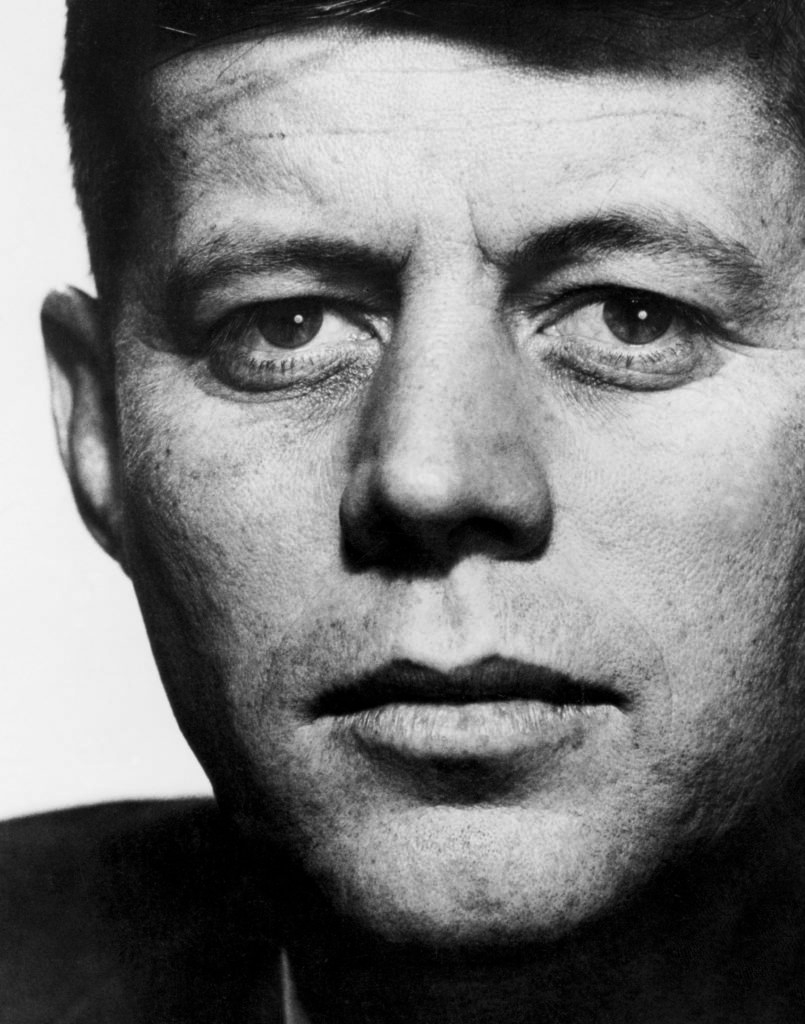 Senator John F. Kennedy of Massachusetts, 1957
Philippe Halsman, (Magnum Photos)
Lunch & Learn: 12-1:30pm, FREE Lunch and Program
Join us for a catered lunch at the Museum and enjoy a fascinating presentation tied to our current exhibition. Tour the galleries before or after. *RSVP required for FREE lunch at least one week prior to each program.
Wed., May 1: John F. Kennedy's Service in World War II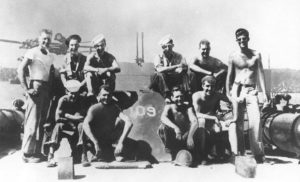 Retired school teacher and Director of Education for the Saginaw Valley Naval Ship Museum (U.S.S. Edson), James Reha discusses Kennedy's military service during World War II.
Friday, May 31: Sea of Peace or Sea of War: Kennedy, the Cold War, and NASA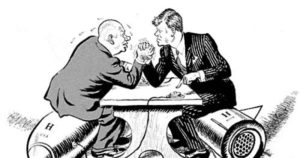 Prof. De Clerck-Szilagyi will discuss the importance of the space race in Cold War politics.
MOVIE AT THE MUSEUM
Wed., April 24, 4-7 pm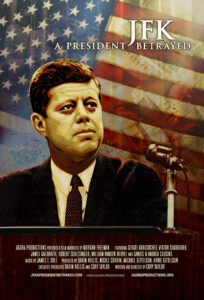 "John F. Kennedy: A President Betrayed" film and discussion with Dr. John Baesler
Please join us at the Museum for a FREE film viewing and FREE movie snacks.
Collaborative SVSU Sponsored Programming
University students, staff and faculty are invited to free programs sponsored by the Michigan Humanities Council and the Michigan Council for Art and Cultural Affairs.
When John F. Kennedy was killed in 1963, he was on the cusp of making a fateful decision: Would the United States intervene militarily in Vietnam, or withdraw its commitment? JFK's successor Lyndon Johnson committed the United States to a military victory in Vietnam, with disastrous consequences. Would events have turned out differently if Kennedy had lived?
The award-winning documentary "JFK: A President Betrayed" argues that Kennedy was determined to extricate America from Vietnam and ease Cold War tensions with the Soviet Union. The Marshall Fredericks museum will show the documentary, followed by a discussion with John Baesler, Associate Professor of History at SVSU.
JFK Create & Take: Select Saturdays, 1-4 PM
FREE Program
Pop over to the Museum for a FREE hand's on art activity for all ages
Sat, April 27: JFK Art Contest
Create and submit a drawing of John F. Kennedy to the Museum as part of the JFK Art Contest. Art is judged on creativity, general design and by age group. A panel of museum staff evaluate entries to select the winners. The art winners' art and five runner-ups for youth 18 and younger will be put on display on the Museum's Online Art Gallery on the Artsonia.com website (per parent's permission).
Sat, May 18: Creative Collage
Create a collage using two-and three-dimensional paper and objects. Decorate your home with your creation.
Sat, June 8: Sensational Stamped Design
Make colorful stamped designs with rubber stamps. Learn about color theory while having fun.
Sat, June 22: Art Photo Tips
Learn a few photograph techniques with your own cell phone, point and shoot or SLR camera and take masterful photos of sculptures in the Main Gallery, Sculptor's Studio and Sculpture Garden. Share them on social media or print and frame at home.
Sat., June 29: Printmaking Passion
Learn simple relief printing techniques with found objects. Make small cards or artworks for your home.
April 29 – 9:00 am – 4:30 pm
International Sculpture Day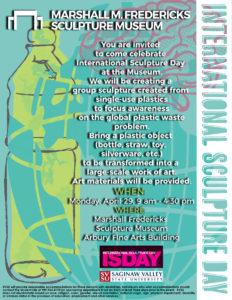 Join us for International Sculpture Day and participate in the creating of a group sculpture.  This is the Museum's 4th year participating in this global event.  We will be creating a sculpture that uses plastic bottles and containers to help bring awareness to the plastic waste problem.  Stop by and be part of the art.
June – July
Summer Art Camp at the Museum is a must for any child age 8 to 18.  In it's 12th year, the Summer Art Camp program sells itself because participants want to come back year after year.  Every student becomes an artist for a week, and every student is nurtured and encouraged by highly skilled art educators.   Look at the photos from previous year's Summer Art Camps and you will see why your child will want to be a part of this creative life-changing experience.
Download the Summer Art Camps 2019 Flier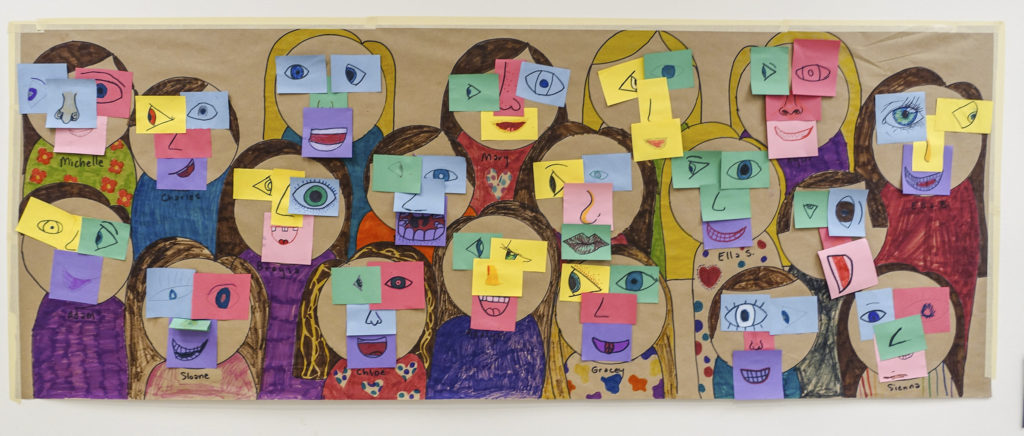 June – July
July 10 – Sept. 25, 2019
From Swords to Plowshares: World War II Metal Trench Art
Exhibition Organized by Hollingsworth Fine Arts.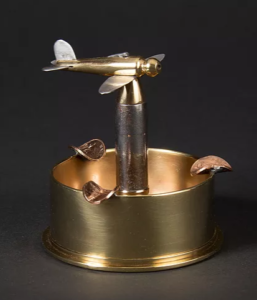 July 10 – Sept. 25, 2019
WAR-TOYS: Israel, West Bank and Gaza Strip
Exhibition Toured by Mid-America Arts Alliance.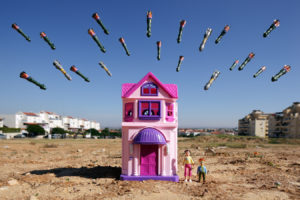 Sept. 16 – Oct. 4
Saints, Sinners and Spies Invitational exhibition
University Art Gallery
Preview the artworks up for auction during Saints, Sinners and Spies.
Oct. 4
Saints, Sinners and Spies gala
The annual gala that you won't want to miss.  Great food, friends, music, art and perhaps a spy or two.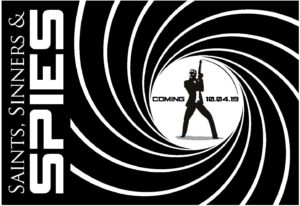 Oct. 4, 2019 – Jan. 11, 2020
Lee Sung-Kuen: Interconnections exhibition
Building a bridge between man and nature, Lee's work is a perfect illustration of the concept of vital energy (Qi), which is omnipresent in the artistic culture of Eastern Asia. He creates sculptures of primordial shapes that, at first sight, evoke human cells or the notion of fertility. Made out of entangled piano wires, which the artist sometimes brightens up with vivid colors; they establish a dialogue between fullness and emptiness while sustaining the resonance of their initial role. Once suspended in air, the vibrating play of light on the sculptures, and the apparent fusion with their surroundings into one symbiotic unity, bring the ovoid shapes to life.
Curated by Kate Shin.
Oct. 4, 2019 – Jan. 11, 2020
Susanne Stephenson, Transfigurement, exhibition
Curated by Tom Phardel.
Jan. 18 – May 16, 2020
Explorations in Wood: Selections from The Center for Art in Wood, exhibition
Center for Art in Wood traveling exhibition