Artist-In-Residence
Artist-in-Residence to be hosted by the Marshall M. Fredericks Sculpture Museum
The Marshall M. Fredericks Sculpture Museum will bring Michigan artist William Allen to Saginaw Valley State University as an artist-in-residence, Sept. 17-21, 2018.
The Museum envisions the artist-in-residence program as a way for grades 6-12 students, college and university students, and the public to interact with and learn from a working artist.
During the residency, Allen will give a free public lecture on Wednesday, Sept. 19 at 1:00 p.m. in the Museum classroom.
We invite grades 6-12 students, college students and the public to schedule a visit during open studio hours, from 9am to 8pm, Monday-Friday, Sept 17-21. During open studio hours, students will have an opportunity to work one-on-one with the artist, learn about his art-making process, and make an artwork of their own. Sessions can be scheduled from one to three hours and are limited to 20 students per session.
Originally from Michigan, Allen studied pre-med and received a BA in Biology from Denison University. Afterwards he decided to work with his hands and pursue a different passion by taking a welding class in ornamental metal work and blacksmithing. He began to create welded animal sculptures and sell them. Soon he received various commissions, grants and awards. He is represented by galleries in New Mexico and Michigan and his work is in many private collections, including Alex Trebek of Jeopardy game show fame.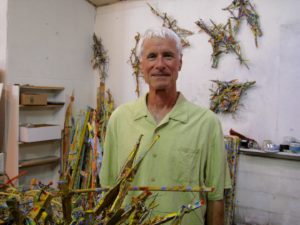 In the late 1990s, Allen moved to New York City and obtained a studio in the DUMBO neighborhood of Brooklyn where he was influenced by many artists in the community, which caused him to pursue new art forms using different materials and explore different subject matter.
In the early 2000s, he returned to Michigan to care for an elderly parent and began working on a series of black and white paintings with the theme of death. His work evolved into colorful, abstract and energetic imagery that connected to his biology background. His current work is brightly painted natural and man-made found objects assembled into relief and freestanding forms.  His artist statement says, "I believe that my art is an expression of my creative journey and despite the many changes, the themes of death, transformation and movement toward light continue to form the basis of my work."
Allen has been represented in numerous national exhibitions, received state Creative Artist grants, and national and international commissions. Further information about him and his art can be accessed at billallenart.com.